These are art pieces created around the themes of 'continuity', 'development' and 'invention' from an original picture by Max Bill. Certified by the Max Bill Foundation, these 2007 posters faithfully reproduce the original lithograph colors.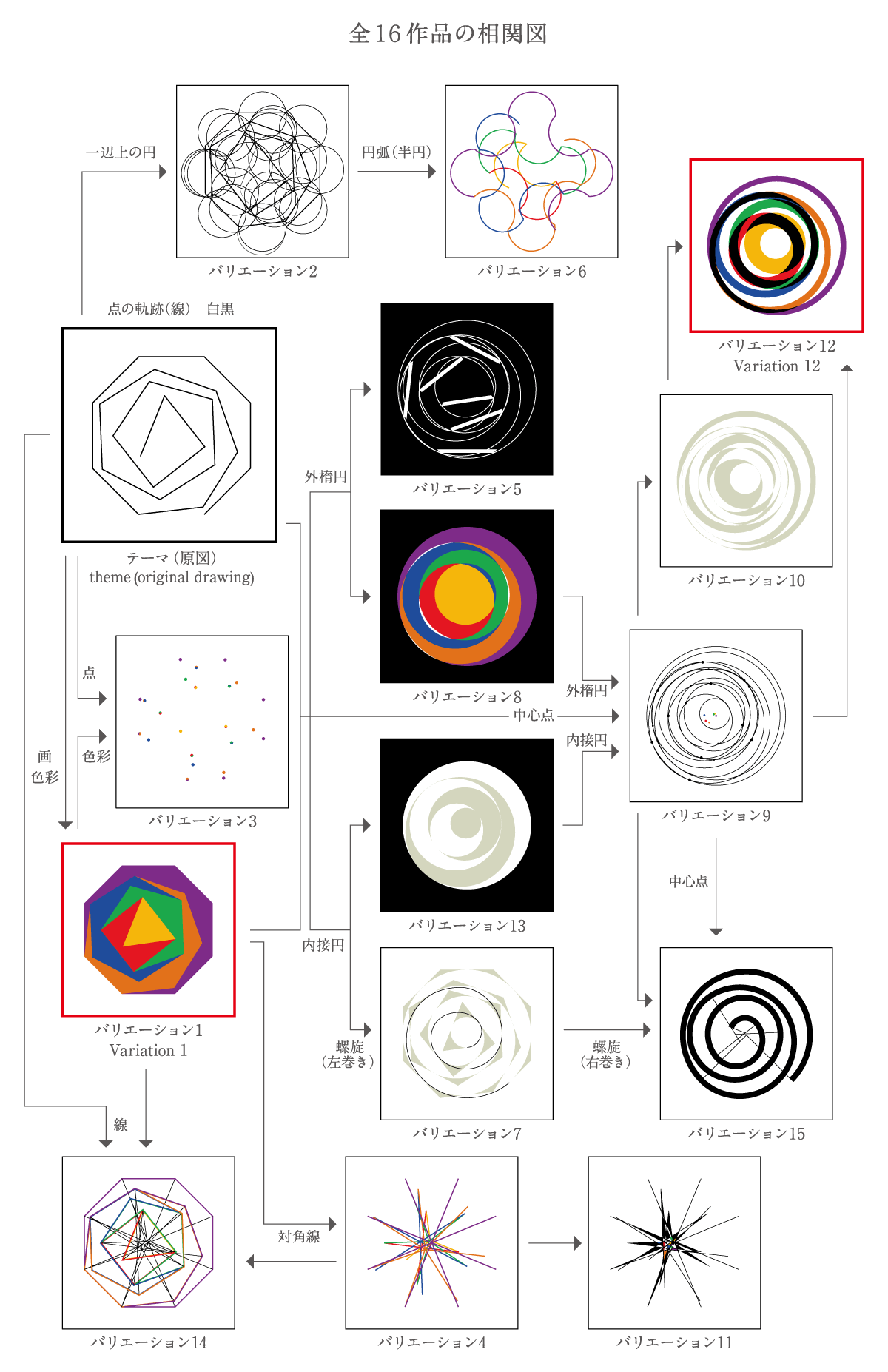 Fifteen Variations on a Single Theme
This is the concrete art of Max Bill which was created during 1935-1938. The original work was published as a shape of booklet from a publishing company in Paris. Based on one theme (original drawing) as a nucleus of idea, he created the 15 variations along the 3 keywords 'continuity', 'development' and 'invention'. The original drawing is a spiral graphic of a line which consists of a regular triangle with one side becoming a part of perfect square, and equally developed from the square to regular pentagon to regular hexagon to regular heptagon then to regular octagon. And following the molding rules set by him as how to put dots or draw lines in specific order, he put arranges to each 15 variations.
Max Bill [1908-1994]

Born in Winterthur, Switzerland. For three years beginning in 1924, Bill studied silversmith in Zurich, after which he studied under Wassily Kandinsky and Paul Klee at Bauhaus. Bill wore many hats, including that of painter, sculptor, graphic artist, architect, and industrial designer. Later, determined to pass on the spirit of Bauhaus, he devoted himself to the founding the Ulm School of Design, where he would serve as the school's first chancellor. Consistently pursuing the creative process founded in "regularity" and "logic," today his theories have a profound influence on the worlds of design and art.
METROCS

METROCS is an interior products brand selling masterpiece design items with a long history originating in Japan and Europe. By handling items that do not become outdated due to the flow of time but rather increase their presence with each passing year, METROCS supports evolution of the lifestyles of a broad spectrum of users, transcending both generations and gender. Selecting future masterpieces from among a range of outstanding products and creating a future for them is both our mission and our pleasure.